Hi guys, It's Joseph once again and welcome to my warrior plus for beginners post. If you are on this post then you must be looking for some information on how to get started with warrior plus.
Probably you are a beginner wanting to learn how to do affiliate marketing and you have heard of warrior plus and chosen to start with it but you have no idea how to do it because starting out as a beginner in affiliate marketing can be complicated
In this post, I am going to be showing you how around the whole warrior plus platform, how to request for your affiliate links, get approved.
Most importantly we will look into how to promote your affiliate links to make sales and earn commissions because the big issue why most people don't make that much money with warrior plus is because they really don't know how to promote warrior plus promotes and that's what will be looking into a bit.
So if this sounds like something you are interested in, then you want to stay and read this article till the end because this is the only article on warrior plus for beginners that you will ever need to read.
What Is Warriorplus?
Warrior Plus is a digital product network for the buying and selling of digital products such as online courses, software, Ebooks and access to paid membership sites. It is a platform that brings Product Creators/Vendors with affiliates who would like to promote their products to prospect in other to earn affiliate commission from the sale of the products.
The amount you earn as an Affiliate on Warrior Plus varies depending on how much the vendor is ready to pay out as affiliate commissions.
You can expect to earn anywhere from 50%-100% on the front-end and likewise on the up-sells. As earlier stated it all depends on how much the vendor is ready to pay as affiliate commissions to affiliates.
How To Sign Up As An affiliate On Warrior Plus
The first step to getting started as a beginner on warrior plus is to signup for an account. Unlike some other affiliate networks that only allow affiliates from certain Countries, Warrior Plus accepts affiliates from all countries. So Irrespective of your country you can signup For An affiliate Account.
It is Pretty Easy To signup…
Step 1: Head over to Warrior Plus and click on the "Free Sign Up" Button at the Top of the Page as seen below.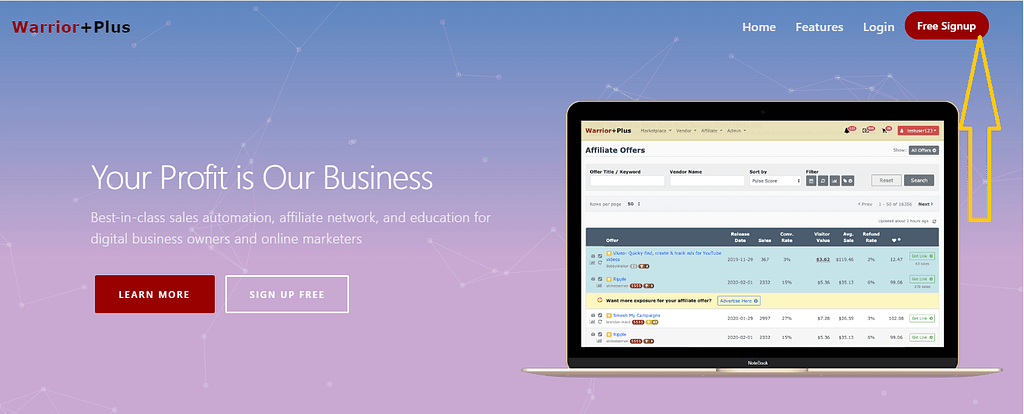 STEP 2: Choose A username, password and email that you would like to use to create your account.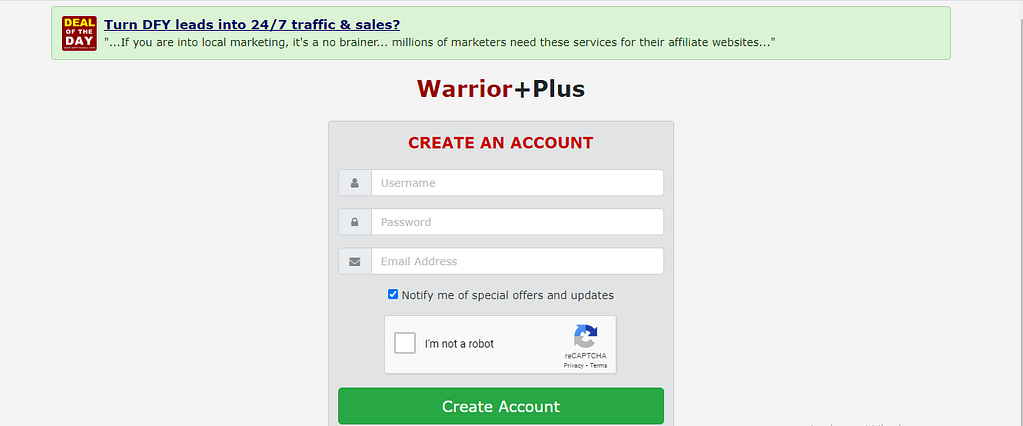 STEP 3: Final step is to verify the email address you used in registering in other to gain access to your account. Click the link in the email sent by warrior Plus and login to verify your account and that's pretty much it.
Once you login, you will be brought to the warrior plus dashboard as seen below.
As a new affiliate on warrior plus trying to figure out every single tab and understanding the navigation could be quite overwhelming.
It's one of the major reason why I decided to write this warrior plus for beginners post for you guys.
In as much as there are a lot of tabs on the website. Youreally don't have to know all of them as a warriorplus affiliate who is just starting out.
There are tabs for affiliates and there are those for Vendors. So as an Affiliate the ones you want to focus on are those for affiliates.
To your topmost right, you would see a red menu with your username that contains the following Sub-menu
favourites/alerts
purchase history
Wallets
My account
Logout
Favourites and alerts are Where Your notifications such has new product lauchs from vendors that you are following.
Purchase History is where you will be able to access any product you buy on warriorplus.
Wallets is where you you get to see how much is currently in your warriorplus balance and you can then transfer the balance to your paypal account of do wire Transfer to any of your banks any where in the world..
My Account section takes you to where you can configure everything about your account including how you want to get paid as an affiliate and has a vendor if you are going to be selling your own products later on..
How To Get Products To Promote On Warriorplus
To see a list of all the available products that you can promote, navigate to the top left menu and you will see 3 menu tabs called MARKETPLACE, VENDOR & AFFILIATES …
We will be focusing on the AFFILIATES TAB since this post is about warrior plus for beginners and being an affiliate is the best way to get started on warrior plus as a beginner. The affiliates tab has sub-menu;
Dashboard
Offers
Stats
Transactions
Contests
Launch Calender
Dashboard shows you how much you have earned in the last 30 days and the number of hops (how manytimes your affiliate links where clicked on on) but since your account is brand new like this
So Once you start Making sales all your earnings will and appear here.
Offers will show you a list of all the products that have already been launched and are available for you to promote. Here is what the offers page looks likes
How To Pick A High Converting Offer On Warrior Plus
When Picking products to promote on warrior plus as a beginner, there are certain things you have to look out for in other not to waste time promoting products that you will never make a sale from no matter the amount of traffic you drive to it..
Using the offers dashboard image above, let's look at the things you should look out for as a warrior plus beginner.
On the first column of the image are the offers, which are the names of the products that you want to promote.
The second column is the release dates of the products. When picking products to promotes you want to make sure you don't pick products that are too old as these products may no longer be selling currently.
I tend to stay away from products that are 8 months old with the exceptions of software and plugins so I strongly recommend all warrior plus beginners do the same.
The third column is for the Number of Sales. The number of sales a product has goes a long a way to determine if the product is a good product and if it's converting well.
So when applying to promote a product that is already listed on the offer page you want to make sure it has a good number of sales at least 1000 sales.
The number of sales alone doesn't guarantee if a product is good enough for you to promote or not. There are 3 other factors you should check before picking a product to promote. This takes us to the fourth column.
The fourth Column is the Conversion Rate. The conversion rate is one of the major factors I consider when picking my offers.
It is a measure of the number of people that actually buy the product you are promoting to the amount of traffic you send to the sales page of the product.
So if you send say 100 clicks (visitors or traffic) to the sales pages of the products and get 10 sales that's a 10% conversion rate which is pretty much ok.
I try as much as possible to stay away from products that have less than a 7% conversion rate.
So basically, the higher the conversion rate the higher the likelihood that you would get sales from the product if you send a small amount of quality traffic to it.
The Fifth column is the Visitor Value which actually refers to EPC (earnings Per Click) and the value is gotten by using the formula total revenue divided by Clicks.
So say you have a total of 100 visitors ( referred to has unique Clicks) that visit the sales page of the product you are promoting and in total you make $200, each of those visitors are actually worth $2 to you.
The last key factor warrior plus beginners should consider when picking a product is the Refund Rate of the products. If a promotion has a high Refund Rate, It is advisable that you stay away from it.
It wouldn't be nice to spend money on traffic or spend time with Free Traffic to get a sale only for your customer to request for a refund and then you lose the commission.
The truth is, to be successful in affiliate marketing, in general, you need to understand these terminologies as they are key to ensuring you pick a good product.
Nice, so you are leaving the warrior plus beginner stage and advancing to intermediate.
So now that you know how to pick a good product, let's talk about how to request to promote the product and get approved.
How To Request And Be Approved To promote An Offer on Warrior plus
One of the major problems warrior plus beginners face is actually getting approval to promote a product. This is key because if you are not approved then you cannot get access to an affiliate link that you will use for your promotion.
As shown from the image above, Vanguish meets all of the requirements of a good product to promote for warrior plus beginners.
To request for a product to promote, click on the Request button. The you will be taken to the affiliate request page of the vendor that looks like this…
You get a pop up like this….
Make sure to leave the Pay To Accounts Option as Warriorplus Wallet.
The request note section is where many warrior plus beginners fail even before they start. Most warriorplus beginners just Click on the request Offer Option without filling anything in the request note field.
Most product vendors will not approve you that way…
Another thing reason why most warriorp lus beginners are not approved to promote an offer is that they type things that even make the vendor not approve them..
Every product vendor wants super affiliates who already have a huge email list and are experts in email marketing, have a youtube channel with a reasonable amount of followers or a blog related to their product with huge monthly visitors and are making tonne of sales.
But has a warrior plus beginner, you might not have any of these especially if you are new to affiliate marketing.
So what you should do is explain in details how you intend to promote the product. This is basically what every Vendor expects to see to know if you are actually serious about promoting their products and won't be sending to spam or bad traffic that can affect their EPC.
One Vital thing to increase your chances of getting approved is to mention the name of the vendor in your note. this shows that you have actually done research about them.
You can find the name of the vendor on the affiliate request page on warrior plus or the jvpage which you can find using the image below:
From the image above the name of the vendor is superwarriors but that isn't a name of a person but their business name .
So get the exact name what you do is scroll to the bottom of the page to see the link to the Jvpage( Vendor's affiliate page).
This page is where affiliates get all the details required to promote the product and all names of vendors if the product has more than one and their contact details.
Here is a Template You can use: Hi, (Vendor's name), I am( Your name) and I would love to promote your launch. I would be using ( your source of traffic e.g your email list) to product your launch. please kindly accept my request. Thanks.
Once the vendor replies to your request, you will get an email from warrior plus (to the email you registered with) stating the status of your Request.
If you are approved, you can click on the link in the email to access your affiliate link.
So that's pretty much amount requesting for your link and getting approved as a warrior plus beginner.
So now that you have a good product to promte and you have gotten your affiliate link. How then do you promote your links to mkae sales and in turn earn commissions?
How to promote warrior plus products
Traffic is the blood of every online business and by Traffic, I mean getting people interested in the offer you are promoting to the Offer.
You could get the find the best products in the world and even get approved to promote it but non of that matters if you don't know how to drive traffic to those offers.
There are basically two methods you can use toget traffic on the internet.
Paid Traffic
Free Traffic
Most warrior plus beginners and newbie affiliate marketers, in general, do not have the funds to start with paid traffic so they always tend to the FREE traffic and it's totally understandable.
If you are a warrior plus beginner or totally new to affiliate marketing and on a tight budget, then you can start with FREE traffic and then scale up your earnings when you start making some sales
Thankfully, there are good FREE traffic sources that you can start with as a beginner on warriorplus and start generating sales in quite a short period of time. So let's look into the free traffic sources.
Free Traffic sources
Facebook
Instagram
Twitter
Youtube
Quora
Pinterest
Reddit
Facebook, Instagram & Twitter
When using these three social media website as source of traffic, you should know that in order to generate traffic, you should be ready to put in the work in building a following of people who are interested in what you intend to promote.
You will be surprised how fast you can build a social media following. All it takes is for you to get started. Once your your following starts to increase, it essentially explodes as well.
Just Make sure to give Value In the group and share quality content from time to time.
If you have a Facebook group for Instance you can share quality content in your niche with them to build trust and keep them engaged. You can then recommend your affiliate products to them.
Youtube
Youtube is a great place where you can easily grow your own following called subscribers by creating video contents around niches of products that you intent to promote.
You can make review videos of products you are promoting or offer great tips that could greatly help yoursubscribers.
At the bottom of each videos you can include affiliate links to the products you are promoting and as wellmention that you are recommending the products to them in your vidoes.
Your subscribers will increase daily if you make quality videos. Howevere the main aim of making the videos is to show that you are an expert in your field or knowledgeable about the niche.
In doing this, you are adding a face to the site meaning more sales for you and more affiliate commissions.
Quora
Some years back. The Question and answer community was dominated by Yahoo Answers..
Quora has now replaced the Yahoo Answers. Quora is a great place for warrior plus beginners to get free targeted traffic.
On Quora, you get to see a lot of people who have problems and are asking questions about those problems on this platform.
What you have to do is search for people having problems that are similar to the products you are promoting, Give a reasonable answer and then recommend the product you are promoting as a solution by embedding your affiliate link in the answer you have provided..
So when they read your answer, click the link and make a purchase, you earn commission.
Pinterest
Pinterest is an image search engine. So if the products you are promoting are image focused then you may want to consider using Pinterest as your source of traffic.
You can earn lot of affiliate commissions if your affiliated offers are related
Sports
Health and Fitness
Creativity
Make money online
A lot of affiliates have earned affiliate commissions using pinterest by learning how to use pinterest as a traffic source, sharing images and just being social.
It can be really complicated to start with Pinterest for warrior Plus Beginners or affiliate marketing beginners but it is one of the best converting free traffic source of affiliate marketing.
Reddit
Reddit is no doubt one of the largest website in the world today.
While it is very possible to generate free traffic from Reddit, It can be very difficult because it's users are a lot smarter than those you would see on other platforms.
You can't just create a Reddit account and start throwing links everywhere as Reddit doesn't take that likely. If you are going to be promoting links then you should take an active role in their community.
You need to build up your reputation and then share a post from your website. If you just come as a spammer, your post will be deleted before you even get two hits on your website..